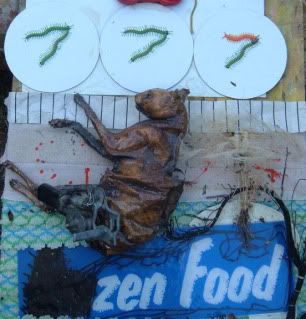 WFMU Review
It
does
require a very unique kind of drummer, But when those born into the drummer's throne are naturally inclined to explore beyond the drum cage, they bring with them an exhilaratingly fresh, hyper-rhythmic approach to music composition and improvisation. A new generation of exciting drummer solo projects is emerging right here on the FMA:
Black Pus
(Brian Chippendale of
Lightning Bolt
),
Soft Circle
(Hisham Baroocha ex.
Lightning Bolt
/
Black Dice
),
GDFX
(drummer for
Teeth Mountain
,
Liturgy
, and the
Dan Deacon Ensemble
) and
Bolmongani
(Ryan from
Paik
) come to mind. And we're very excited to welcome Hexlove to the FMA with his Harp Drafts EP, a free release from the blossoming
Obstructive Vibrations
label.
C. 2009